Keyclamp, Railings & Bow Top Expert Advice and Installation
We offer a range of different Keyclamp, Railings & Bowtop in Kent, providing an array of bar sizes, widths, and heights available. Our Bow Top and metal railings are designed and supplied with an attractive galvanised finish directly from our fencing workshop in Ashford, Kent. We can also offer a full installation service, no matter the project size.
Our Quickclamp is a versatile, multi-purpose fencing system using malleable cast iron fittings.

Our Vertical Bar is a robust barrier fence and has the same style as the bow top but with vertical sections.

Bow top fencing is named after the hooped finish at the top of the fence and is commonly used as a perimeter fence.

Designed to protect pedestrians at road junctions and crossings, our pedestrian guardrail is also ideal as perimeter fencing for running tracks and play areas.

Our Estate Fencing usually used for estate and country park railings, a modern reproduction of the traditional iron railings.
The difference between Metal Railings & Bowtops
Metal railings and bowtops are a great way to add extra security to any domestic or commercial premises. Our range of metal railings and bowtops are manufactured using a high quality steel material and are available in an array of designs, styles and sizes.
Metal railings are becoming a very popular choice of fence style for residential areas and parks. They provide perimeter security whilst also being low maintenance, making them both cost efficient and cost effective. They are inherently strong in their design, offering a robust line of defence with an aesthetic charm which gives the ability to deliver an imposing, yet attractive perimeter security solution.
Bow Top Fencing is extremely versatile and can be used as a protective perimeter for many applications including parks, cliff tops and open spaces. Their unique design show no visible joints with 'bow' type joins at the top to give an attractive appeal. Bow top fencing is extremely strong and once installed, it can withstand all types of weather conditions throughout the year making it the ideal choice of fencing for parks and open spaces.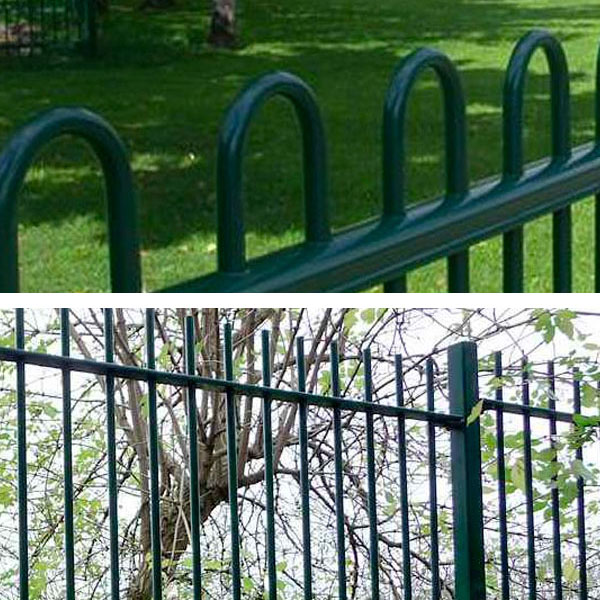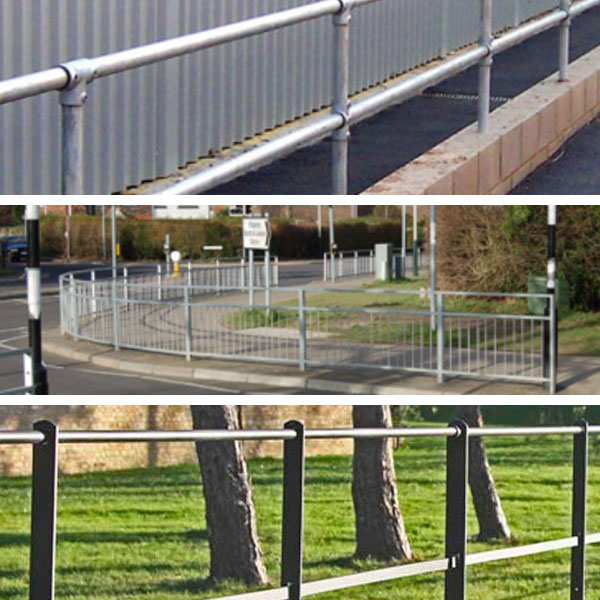 Where can metal railings and bowtop fencing be used?
Metal railings and bowtop fences are extremely versatile and can be applied to a number of fencing applications which include:
Parks
Schools
Commercial Properties
Residential Areas
Cliff Tops & Open Spaces
Contemporary Gardens
Sports & Recreational Areas
If you have a metal railings or bowtop fencing project then please feel free to contact us on 01233 820240, via email, or by submitting an online enquiry. Our expert fencing team, based in Ashford Kent, will be happy to assist and advise you on deciding the best security solution for your premises.
What are the Benefits of using railings and bow top fencing?
There are many advantages to using metal railings and bow top fences, here are a few:
Security
Able to offer a security perimeter which is strong, long-lasting and aesthetically pleasing.
Durability
Made from a strong steel material, making them hard wearing and able to withstand the wrath of extreme weathers.
Cost Effective
Maintenance and repair work is low, simply because steel is a strong material which can last for many years.
Aesthetic
Steel railings and bow tops offer a modern, sleek fencing alternative to other traditional security fencing systems.
Looking for a quote on a metal railings or bow top fencing?

We are more than happy to assist you with any questions regarding metal railings and bowtop fencing systems. Feel free to contact our friendly fencing specialist team by telephone on 01233 820240 or submit an online enquiry form.
OUR RANGE OF FENCING & GATES
At Four Seasons we not only supply metal railings and bowtop fences, we also offer the supply and installation of a number of commercial fencing projects across the Kent area. These include commercial railway Fencing, Timber Fencing, Environmental Fencing, Site Hoarding, Crash Barriers and much more.
Our extensive range of Weldmesh Fencing systems.

Our range of Steel Palisade Fencing systems

Chainlink, Steel Palisade and Bespoke Systems for the Railway Industry

Our Range of Acoustic and Reptile Fencing

Our range of Site Hoarding, Heras Fencing and Site Gates

Our range of Keyclamp, Railings and Bowtop

Our range of all types of timber fencing

Our Range of Gates and Access Solutions

Our range of Crash Barriers & Bollards

Our range of security fence toppings