Security Fence Toppings
We offer a range of security fence toppers for both commercial and domestic fencing projects in the Kent area. Security Fence Toppings can be added to your fence to suit an array of requirements, whether it be to increase security, add height to an existing fence for privacy or to help act as a deterrent against intruders. Our wide range of security fence toppers come in a range of patterns and sizes and are constructed to a high standard by hand in our workshop in Ashford, Kent.
There are a number of different styles available including concertina razor wire, anti climb barrier and flat wrap razor wires which all offer a strong security perimeter solution.
Our product incorporates pairs of three point vanes assembled around a central fixed axis to present a freely rotating anti-scale obstacle.

For your security we offer a range of serrated edge strips and security spikes suitable for gate and wall toppings.

Concertina Razor Wire properly installed is very difficult to scale and offers a very visible deterrent to any would be intruder.

Our flat wrap razor wire system is neat and sits vertically above the security fence.

Installed as single strands above the fencing to increase security and send out a visual deterrent.
Where can security fence topping be used?
Security Toppings are designed to give extra privacy to your land or garden by adding height to your fencing structure. They come in an array of designs to suit any requirements whether it be to add extra privacy to a domestic garden or to simply add security to a business premises. Fence toppers can be used for a number of fencing applications such as:
Play Areas
Schools
Prisons
Domestic Gardens
Commercial Premises
Railway Infrastructures
Utility Compounds
Sports/recreational Areas
For high security requirements the barbed wire fence toppers are recommended as these are fixed firmly to the top and are designed to be a good deterrent against intruders.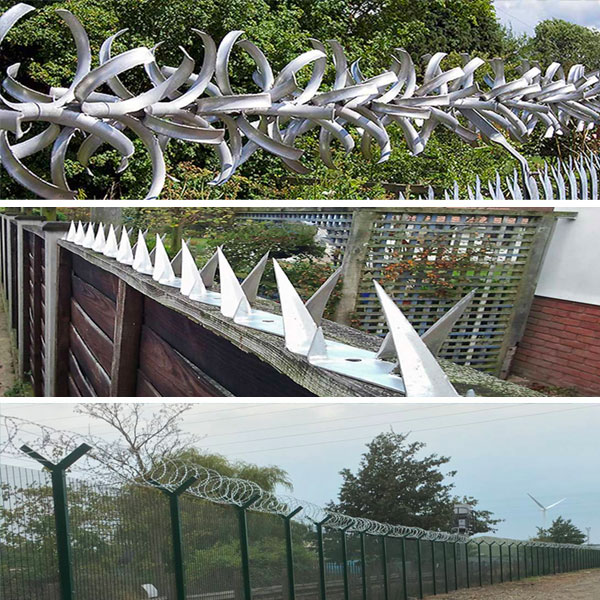 Benefits of Security Fence Toppings
There are a number of benefits to fence toppers which include:
Additional Privacy
Depending on the type of security fence topper, they can provide a great source of additional privacy from prying eyes.
Intruder Deterrent
The main benefit is of course the visual deterrent of fence toppers, usually featuring some type of large sharp design to scare away intruders.
Higher Security
Just having generic security fencing isn't always enough, having the addition of security fence toppings give a much higher level of security.
Unwanted Animals
Depending on what your place of work may be, fence toppings can also really help against unwanted animals finding their way inside.
Looking for a quote on Security Fence Topping?
We offer a variety of fence toppers which give added security to a range of fencing types including spiked fence toppings, razor wire and anti climb guards. If you have any further questions or would like to speak to an advisor then please contact us on 01233 820240 or visit us in our workshop in Ashford, Kent.
OUR RANGE OF FENCING & GATES
We don't just supply security fence toppings, we also provide a wide selection of fencing that we supply to commercial projects in the Kent which includes Steel Palisade, Railway Fencing, Environmental Fencing, Hoardings & Site Fencing, Railings & Bowtop, Timber & Stock Fencing, Gates & Access Control, Crash Barriers, Bollards and more.
Our extensive range of Weldmesh Fencing systems.

Our range of Steel Palisade Fencing systems

Chainlink, Steel Palisade and Bespoke Systems for the Railway Industry

Our Range of Acoustic and Reptile Fencing

Our range of Site Hoarding, Heras Fencing and Site Gates

Our range of Keyclamp, Railings and Bowtop

Our range of all types of timber fencing

Our Range of Gates and Access Solutions

Our range of Crash Barriers & Bollards

Our range of security fence toppings