Bow Top Railing Fencing in Kent
Supplies & Installation
Bow Top fencing is a versatile and durable fencing solution for schools, parks, commercial properties and residential areas. Often referred to as 'hoop top railings', bow top fencing panels have a tubular construction with a metal rail design which feature no visible joints, making installation fast and costs low.
At Four Seasons we manufacture all of our bow top fencing from our workshop in Ashford, Kent and offer an installation service which is fast and cost-effective. Our bow top fencing is lighter than traditional iron railings and requires only a few posts to keep it structurally stable, making it extremely versatile and simple to install.
We can provide a full installation service in the Kent area, whether it's for a business, school or contractor. Every fencing installation project we undertake is treated as unique. If you would like more information regarding our bow top railing installation service please contact one of our friendly fencing specialists on 01233 820240
Where can Bow Top Railings be used?
Bow top fencing can be used for a number of fencing applications which include:
Residential areas
Commercial properties
Parks
Schools
Public Area
Businesses
Bow Top is available in two configurations; standard bow top and also play area configuration. Play area has been specifically designed to comply with RoSPA guidelines and features a narrow anti-trap bow top.
Available to purchase in a range of different sizes and styles, at Four Seasons we manufacture and supply high quality bow top fencing which conform with UK Building Regulations and also offer coated powder options.
All our bow top fencing has a hot dipped galvanised finish which reflects the BS EN ISO 1461 standard.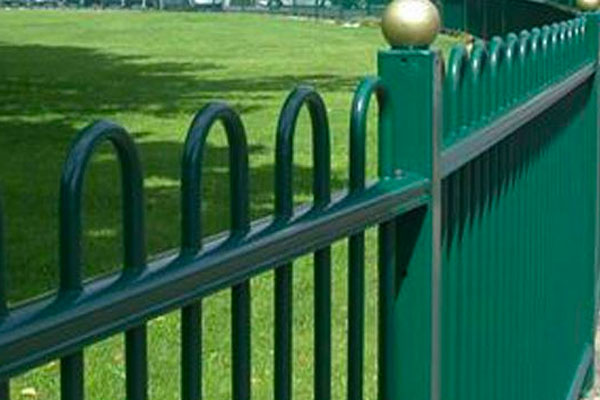 What are the benefits of using bow top fencing?
There are many advantages to using metal bow top railing fences, here are a few:
Easy to Install
The bow top's simplistic design requires only a few posts, making it extremely easy to install.
Cost Effective
A cost-effective solution for perimeter fencing projects that still offers the same amount of strength and endurance to other traditional iron fencing.
Versatile
Can be used for a wide range of fencing applications. Their tubular design allows you to construct a perimeter to suit any requirement.
Looking for a quote on a metal bow top fencing?

If you have any questions about any of our bow top fencing products or would like advice on our installation service, then please do not hesitate in contacting us on 01233 820240, via email, or by submitting an online enquiry form.
OUR RANGE OF FENCING & GATES
Not only do we supply bow top fencing, but we also provide a range of different railings & key clamps which can all be purchased directly online or via our workshop in Ashford, Kent. We provide an array of sizes, widths, and heights to suit all project requirements.
Our extensive range of Weldmesh Fencing systems.

Our range of Steel Palisade Fencing systems

Chainlink, Steel Palisade and Bespoke Systems for the Railway Industry

Our Range of Acoustic and Reptile Fencing

Our range of Site Hoarding, Heras Fencing and Site Gates

Our range of Keyclamp, Railings and Bowtop

Our range of all types of timber fencing

Our Range of Gates and Access Solutions

Our range of Crash Barriers & Bollards

Our range of security fence toppings