Environmental & Ecological Fencing
Environmental Fencing Solutions
For the purposes of sound and noise reduction our acoustic barrier fence has been successfully used on highways, railways and industrial areas.

Our permanent newt fencing uses a recycled HDPE material which is stabilised against ultraviolet damage for up to 15 years.

Our temporary reptile fencing is constructed from polythene which has been stabilised against ultraviolet for 2 years this system is low cost and should be supported on tanailsed timber stakes placed at approximately 1.0m intervals.

Our Absorptive Acoustic Screen can be designed to suit specific requirements and conforms to BS EN 1793, BS EN 1794-1 and BS EN 1794-2.
Looking for a quote on any of our products and services?
Environmental Fencing in Kent
It is extremely important that we do our part for the environment. Which is why at Four Seasons Fencing we stock an excellent range of sustainable eco fencing which is both versatile and durable to suit all needs. As an organisation we recognise the importance of environmental issues to our business and are committed to playing an active role in reducing the company's impact on the environment.
Our range of environmental fencing includes reflective acoustic fencing, newt fencing and timber fencing which are all carefully crafted by hand in our workshop in Ashford, Kent.
Benefits of Environmental Fencing:
Fencing is 100% recyclable
No toxic chemicals required for maintenance
Minimises energy consumed by our operations
Offers protection of endangered species
Reduces the effects of climate change
Our experiences in supplying environmentally fencing has allowed us to ensure the upmost efficiency at all times during the construction site set up of professional quality site hoarding. If you have a project which requires environmental fencing then please feel free to get in touch with one of our friendly team on 01233 820240.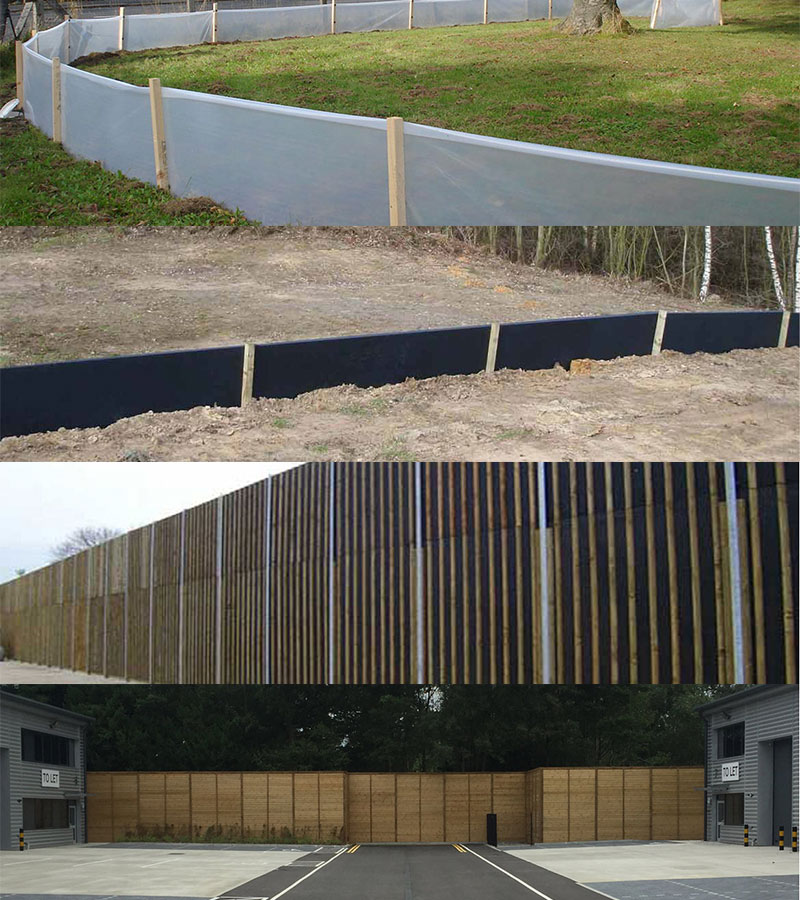 Feel free to contact us for more information about our Environmental Fencing
Our Environmental Fencing Installation Process
We currently offer environmental commercial fencing services to a wide range of businesses and land owners in the Kent area and can offer a diverse range of eco friendly fencing. Every project is of course different, however there are three main stages that all installations will go through.
After speaking with you about your environmental fencing installation requirements, we will visit and perform an on-site survey before preparing any quotes. This way we can ensure that we offer you the best possible solution for your environmental fencing project. The survey will asses the area and advise on the best environmentally friendly method of installation, whilst also focusing on making it as cost effective as possible. Upon completion of the site survey we will then construct a clear quotation/proposal which includes product recommendations, specifications, project plan and duration, general terms and guarantees.
Once the proposal has been agreed, we will then re-attend the site for a second visit and perform a more detailed survey. This survey will check for environmental issues that may impede the installation and also discuss a more detailed analysis of the work required as well as per the safety precautions and regulations. Once this assessment has been completed we will then produce a detailed report and a set of Risk Assessment and Method Statements for you to view. These reports will ensure we provide the upmost safety whilst installing your environmental fencing.
After the proposal has been agreed we will then look at discussing with you the best time to start the project and provide you with an estimated completion date. Our team of highly experienced installers will arrive and carry out all the work required and set out in the proposal. All of our constructors are DBS checked and hold valid CSCS (Construction Skills Certification Scheme) cards to ensure a professional quality of work. A full list of our accreditations can be found below for reference. Once the project has finished, we will then walk you through the work that has been carried out and conduct checks to see that all work has been completed to a satisfactory standard.
Fencing Installation Accreditations

To ensure the upmost professionalism and safety whilst installing your environmental fencing, every member of our installation team has earned the following accreditations.
If You Need a Quote or More Info then Please Get in Touch
If you would like to know more then please get in touch and we'll be glad to help.
Address:
Four Seasons Fencing
Ashford Road,
Bethersden,
Kent,
TN26 3AT
Email:
Phone:
OUR RANGE OF FENCING & GATES
As well as environmental fencing we also supply and install a range of other options.
Our extensive range of Weldmesh Fencing systems.

Our range of Steel Palisade Fencing systems

Chainlink, Steel Palisade and Bespoke Systems for the Railway Industry

Our Range of Acoustic and Reptile Fencing

Our range of Site Hoarding, Heras Fencing and Site Gates

Our range of Keyclamp, Railings and Bowtop

Our range of all types of timber fencing

Our Range of Gates and Access Solutions

Our range of Crash Barriers & Bollards

Our range of security fence toppings
Need environmental fencing installation in Kent?