Gates & Access Control Expert Advice and Installation
Security gates and access systems are an important addition to any fencing structure, whether it be to add additional security to a property or to monitor and control access into a busy workplace. At Four Seasons we specialise in designing and installing security access systems to domestic and commercial businesses in the Kent area and offer ongoing maintenance and servicing for all installations and repairs when necessary. We also supply a wide range of automatic electric gates which are ideal as a security and access solution for large businesses and schools.
With a dedicated and professional security gate installation team, all of our installers are fully-experienced and certified, holding CSCS, DBS and CAMESAFE credentials so you can be rest-assured that you're in safe hands when having any sort of security access system installed.
Our double swing gates have an extremely rigid construction and a modern design incorporating adjustable hinges, drop bolts and an integrated padlockable slide-bolt.

Cantilever manual sliding gate, open in the morning and close at the end of the day!

Our Cantilever Sliding gates are fully fabricated off-site to include in-built safety cells, safety pressure strips and drive gear ready to bolt down and commission.

Offering CAME gate automation equipment and BPT Access Control, all installed by our own in-house fully trained operatives.

Our Pedestrian Swing Gates are all SHS framed and can be clad to suite the fenceline. Can come with padlockable slide bolt, locinox key lock or mechanical keypad.
Where can our Security Gates and Access Gates be used?
Security gates and access systems are extremely versatile and therefore can be applied to a number of fencing applications,
Schools
Business Parks
Railway Infrastructure
Sports & Recreational Areas
Car Parks
Hi-Security Areas
Ministry of Defence (MOD) sites
Utility Compounds & Electric Sub-Stations
The security gate or access system your site needs will depend on a number of different factors such as: function, privacy, security level required, traffic volume and space available. There are a variety of gate types that offer different benefits, for example Double Leaf swing Gates have an extremely rigid construction which makes them ideal for large businesses or commercial sites. Similarly, the Cantilevered Manual Sliding Gate are also extremely rigid and offer a low cost solution where limited space prohibits the use of a set of double leaf swing gates.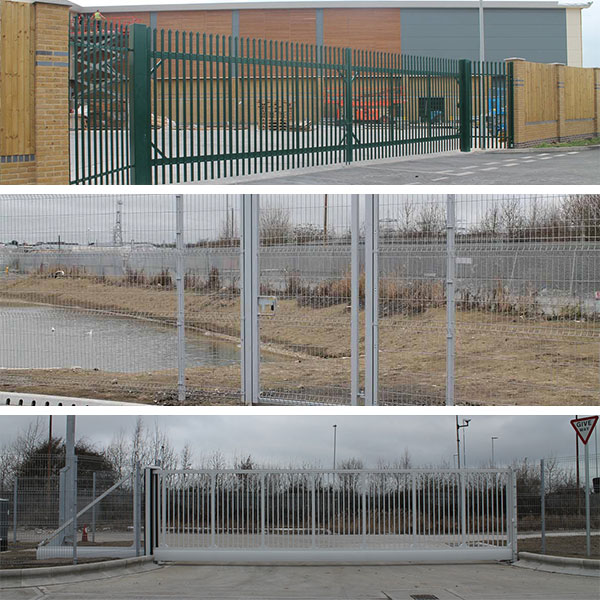 What are the Benefits of using Security Gates and Access Controls?
There are several benefits of installing an access system to your premises, both in terms of security and practicality. To highlight a few:
Control the Access Flow
Adding an access system can help monitor the flow of people entering and leaving a premises, adding extra security measures to ensure all parties remain protected.
Deter Intruders
Security gates make it harder for criminals to enter your commercial premises, they also act as a deterrent. Not many thieves will want to go through the trouble of getting past your security gates let alone accessing the property afterwards.
Convenience
Even though you can't always avoid instances of human error, electric security gates can be locked automatically if a member of staff forgets to do so after leaving.
Investment
Applying a security gate to your premises will safeguard any valuable inventory and remove the possibility of having to replace expensive assets if the event of a robbery were to occur.
Looking for a quote on a security gate or access system?
If you have any questions about any of our gate access systems then please do not hesitate in contacting us either by telephone on 01233 820240, email, or by submitting an online enquiry form. Our expert fencing team, based in Ashford Kent, will be happy to assist and advise on deciding the best solution for your business.
OUR RANGE OF FENCING & GATES
It's not just security gates and access systems that we specialise in, we also offer the supply and installation of a number of different commercial fencing applications across Kent which include: Steel Palisade Fencing, Commercial Railway Fencing, Timber & Stock Fencing, Environmental Fencing, Hoardings & Site Fencing, Gates & Access Control, Crash Barriers, Bollards and much more.
Our extensive range of Weldmesh Fencing systems.

Our range of Steel Palisade Fencing systems

Chainlink, Steel Palisade and Bespoke Systems for the Railway Industry

Our Range of Acoustic and Reptile Fencing

Our range of Site Hoarding, Heras Fencing and Site Gates

Our range of Keyclamp, Railings and Bowtop

Our range of all types of timber fencing

Our Range of Gates and Access Solutions

Our range of Crash Barriers & Bollards

Our range of security fence toppings