Four Seasons Fencing Urgently Requires Security Fence Installers of all Abilities.
With teams departing daily from Bethersden, Nr Ashford, the job includes the following benefits;
Travel costs from our premises to and from the work sites, all generally within the South East of England and London. Occasionally further away.
Use of a company vehicle during the workday supplied with all major tools to undertake the job role.
Supply of all PPE to undertake works safely.
Working alongside a friendly focused team of individuals throughout the company.
The opportunity to move forward within a developing company.
Four Seasons Fencing has the ability to provide the chance at a career driven future for the right individuals with the new addition of focused fencing skills training in relation to the National Highways Sector Scheme alongside our continuous involvement upon the rail infrastructure including for PTS training. Opportunities in both Management and Automation systems are also available.
We would aim for the applicant to have at least the following qualifications;
A CSCS Card (Green, Red or Gold Cards)
Additional qualifications i.e. PTS, CPCS and NPORS tickets would be advantageous.
Due to the location of the yard, a Full UK driving License and own transport are essential.
In return, good rates of pay will be offered to the right candidate. Those who show the required potential will be selected to be enrolled on sponsored courses with the ability to gain additional qualifications. Positions are full time and allow for the inclusion onto a company pension scheme after 6 months of employment. Other benefits include 21 days annual leave plus bank holidays with benefits of weekend overtime as and when available.
Working hours are generally 06.30 – 17.30 including the travel time to and from site. Earlier and later finish times may be required depending upon work location. Included within the day is a 30min paid break, and a 30min unpaid break.
Pay is calculated by the hours worked weekly and is paid on a weekly/fortnightly basis. Based on 52.5 working hrs per week earnings can range up to but not limited to OTE £40K based on experience.
Operatives currently working on a self employed basis are also welcome to apply although will not be entitled to the same benefits as employed members of staff.
Experienced sub-contract gangs with own transport and tools are also welcome to apply.
If you feel this is something that may appeal please feel free to send your CV through to contracting@fourseasonsfencing.co.uk or alternatively phone on 01233 820240 (option2)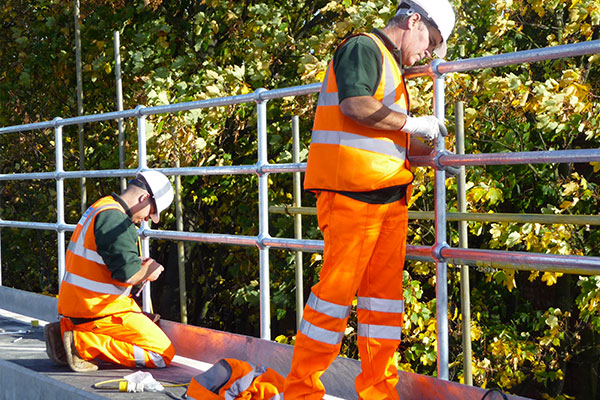 Would you like further information before applying?
Our Current Fencing Vacancies
If you would like to apply for any of our fencing vacancies in Ashford, Kent then please fill in the form below or contact us directly using the methods listed.
Address:
Four Seasons Fencing
Ashford Road,
Bethersden,
Kent,
TN26 3AT
Email:
Phone: