Commercial Automatic Gates in Kent
Four Seasons Fencing offer commercial electric gates in Kent, providing a professional installation service for a range of businesses and educational institutions across Kent and the South-East with automated gates and access controls. In addition, we can also provide ongoing maintenance and servicing and repairs for any gates and access controls we have installed.
If you are thinking of purchasing commercial electric gates then they are provide excellent security for keeping intruders out and allowing staff members and customer secure access into your establishment. Access control isn't a necessity however it provides you with the ability of having intercoms, video systems, timers and much more installed for added access security.
We have a specialist, professional team of electric gate installers, who are fully-trained and certified by government standards, holding CSCS, DBS and CAMESAFE credentials.
We offer an wide range of automatic electric gates and access controls in Kent, including:
Audio or Video Intercom Systems

Automatic Open/Close Timers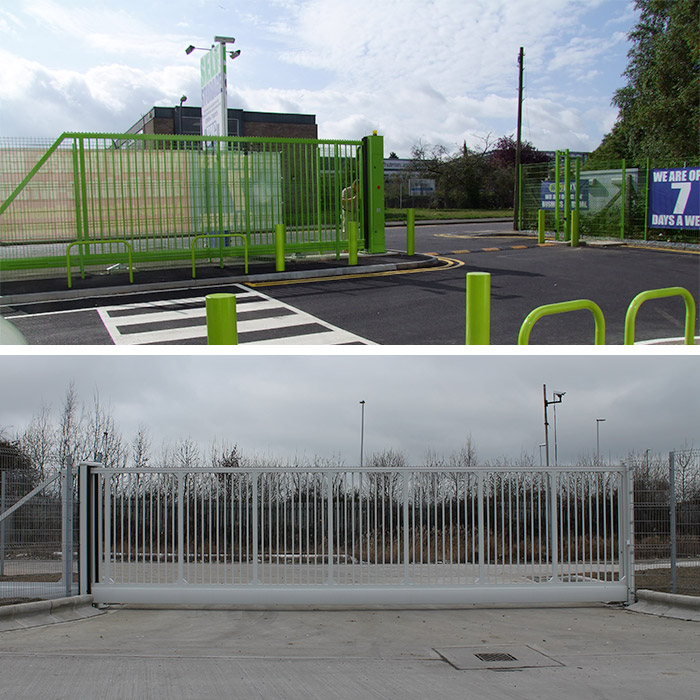 Interested in our range of commercial electric gates and access controls?
Gate installation Services Include

Upkeep and Maintenance Services
Once we have professionally installed your commercial electric gate and access controls, we then provide ongoing maintenance, support and repairs to ensure your gate automation system remains at peak performance throughout its lifespan.
Gate Installer Accreditation

We have an in-house team of professional electric gate installers who are all fully qualified in gate automation, holding a range of the certificates which are listed below so that you can rest-assured you are working with a professional team.
WHO WE'VE INSTALLED FOR
We have proudly installed commercial electric gates and access controls for a diverse range of clients across Kent and the South-East of England.
Electric Gate Installations
As well as commercial automatic gates, we supply and install a range of fencing and gates for our clients.
NEED A QUOTE OR MORE INFORMATION?
If you would like to discuss your commercial gate installation and get a quote, or have further questions about our service then please feel free to get in touch and a member of our team will be happy to help.
Address:
Four Seasons Fencing
Ashford Road,
Bethersden,
Kent,
TN26 3AT
Email:
Phone: