Key Clamp Fencing
Key Clamp fencing is a versatile railing system which connects malleable cast iron fittings and tubes to form all types of handrail, railings and perimeter structures. At Four Seasons Fencing we supply a range of key clamp components in various sizes and can provide framework for chainlink, mesh or ball stop fencing.
Where can our Key Clamp Fencing be used?
The flexibility of the key clamp system allows complex structures to be assembled in a quick and efficient manner. This makes them an ideal choice for a number of fencing applications which include:
Safety Railings
Barriers
Guardrails
Stair Rails
Handrails
Exhibit Stands
Tennis Court Enclosures
Shelving
They are also suitable for a wide variety of easily assembled structures such as climbing frames, platforms, stages and heavy duty storage racks.
All our key clamp fencing is hot dipped galvanised which provides long lasting resistance to corrosion and is available in a number of sizes. If you would like to see examples of our key clamp fencing then please feel free to visit our shop in Ashford, Kent where our friendly team of fencing specialists can help you with any questions.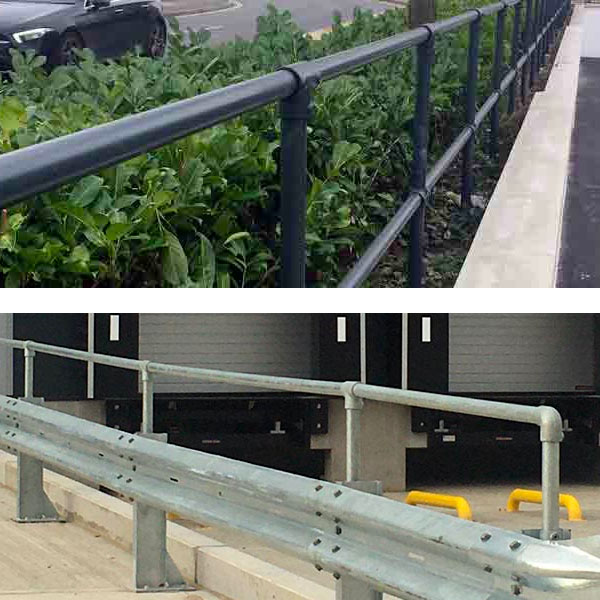 What are the Benefits of using Key Clamp Fencing?
Key clamps are manufactured with simplicity and ease of use in mind. They involve no bending, welding, threading or specific skills, requiring just a ratchet key to tighten grub screws and join galvanised tubes in a matter of seconds. They are manufactured in a weather resistant galvanised finish and are also available in a range of polyester powder coated colours.
Cost Effective
Key Clamp structures can be extremely cost effective and can significantly reduce fencing project budgets.
Weather Resistant
Designed to be lightweight with a galvanised finished – allowing them to withstand harsh weather conditions all year round.
Easy to Install
Simple click-in-design which requires no skill to install. Simply connects and tightens with an allen key.
Versatile
Can be used as a structure for almost anything! Their tubular design allows you to construct a perimeter to suit any requirement.
Looking for a quote on Key Clamp Fencing?
If you have any questions about any of our key clamp fencing products then please do not hesitate in contacting us on 01233 820240, via email, or by submitting an online enquiry form. Our expert fencing team, based in Ashford Kent, will be happy to assist and advise on deciding the best solution for you.
OUR RANGE OF FENCING & GATES
Not only do we supply key clamp fencing, but we also provide a range of different railings & bowtops which can be purchased either online or via our shop in Ashford, Kent. We can provide an array of bar sizes, widths, and heights if required, as well as a full installation service – no matter the project size!
Our extensive range of Weldmesh Fencing systems.

Our range of Steel Palisade Fencing systems

Chainlink, Steel Palisade and Bespoke Systems for the Railway Industry

Our Range of Acoustic and Reptile Fencing

Our range of Site Hoarding, Heras Fencing and Site Gates

Our range of Keyclamp, Railings and Bowtop

Our range of all types of timber fencing

Our Range of Gates and Access Solutions

Our range of Crash Barriers & Bollards

Our range of security fence toppings