Our Range of Barriers and Bollards
Barriers and Bollards are an important addition to any premises whether it be commercial or domestic. They are extremely versatile and can be used for a variety of functions which include: controlling the number of vehicles entering and leaving a property, managing flow of traffic during site hoarding and restricting parking spaces in large car parks.
Barriers have a very important function and are designed to regulate and control the number of vehicles entering or exiting a property. They can also be very useful for managing traffic flow in busy parking areas. Automatic traffic barriers are fairly inexpensive to install and are extremely reliable and efficient to work with. Bollards are sturdy, short vertical posts which are installed to control traffic and prevent vehicle-ramming attacks. They are a great for businesses looking to add extra safety to their carparks or to prevent damage from carriage traffic. They can also be used to offer pedestrian guides and bicycle security.
Armco Crash Barrier is a cost effective system to protect people, plant, and property from impact by forklifts and moving vehicles.

Our range of fixed and rising bollards are designed to provide safety, security and protection, whilst at the same time being an aesthetically pleasing solution.

Our Hoop Barriers are designed to secure vehicles on a forecourt whilst maintaining pedestrian access for easy viewing.

Our Vehicle Barriers can be manually operated or fully automated with access control. A cost effective method for managing traffic access to and egress from your site.
Where can our Barriers and Bollards be used?
Both barrier and bollards can be installed as an extra safety measure for a variety of premises which include:
Car Parks
Large Business Parks
Schools
Hi-security areas
Utility Compounds
Electric Sub-Stations
Railway Infrastructure
Recreational Car Parking Area
As well as supplying standard barriers, we can also install fully automatic barrier systems which can restrict and authorise vehicle/pedestrian entry without the need for staff to manually monitor. These barriers can prevent unwarranted or illegal access and help control traffic flow. They are also extremely cost effective and adaptable to suit every individual need.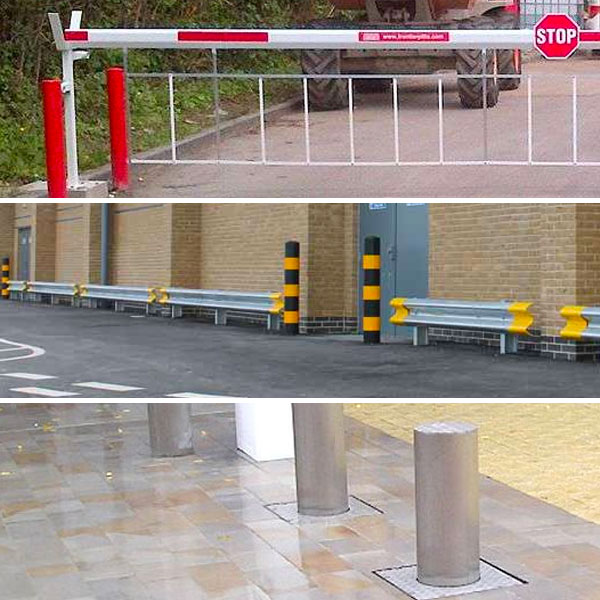 What are the benefits of using barriers and bollards?
At Four Seasons we have a dedicated and professional barrier and bollard installation team, so you can be rest-assured that you're in safe hands! All of our installers are fully certified and hold compliant CSCS, DBS and CAMESAFE credentials.
Help Traffic
Installing a barrier or bollard systems will make traffic flow smoother and reduce vehicle build-up.
Strength and Resistance
Barriers and bollard make it harder for criminals to access restricted area or company facilities.
Improve Security
When planning to restrict access to an area so that only staff or authorised individuals can get through, an automatic barrier system is an ideal option.
Parking Control
Bollards can restrict car spaces or restricted areas from vehicle access, making them a safe environment.
Looking for a quote on a Barrier or Bollard System?
If you have a business premises that could benefit from the installation of a barrier or bollard system then please feel free to contact us either by telephone on 01233 820240, email, or by submitting an online enquiry form. Our expert team of specialists are at hand to give you advice and are happy to assist on helping you decide the best solution for your business.
OUR RANGE OF FENCING & GATES
At Four Seasons we specialise in a wide range of fencing specialities and offer the supply and installation of a number of different commercial fencing applications across the Kent area.
Our extensive range of Weldmesh Fencing systems.

Our range of Steel Palisade Fencing systems

Chainlink, Steel Palisade and Bespoke Systems for the Railway Industry

Our Range of Acoustic and Reptile Fencing

Our range of Site Hoarding, Heras Fencing and Site Gates

Our range of Keyclamp, Railings and Bowtop

Our range of all types of timber fencing

Our Range of Gates and Access Solutions

Our range of Crash Barriers & Bollards

Our range of security fence toppings