Fencing Installation for Businesses in Kent
We provide fencing installation for businesses in Kent whether you are a local business or commercial property owner. Our professional fencing service includes everything from advice and selecting the best product right through to full installation.
For securing the perimeter we offer a range of railings, steel palisade or welded mesh panel systems along with gates to match. Gates can be cantilevered sliding or swing, manually operated or fully automated with full access control so you can more easily monitor and control access and egress to and from your site.
Within the grounds we offer a range of fencing whether it be demarcation fencing, bollards, armco barriers, hooped barriers, knee rail and post and rail to help with parking, flow of traffic and flow of people around your business.
Our installation service provides:
Advice on best fencing and gate options
Supply of top-quality fencing and access control
Professional fencing installation for businesses in Kent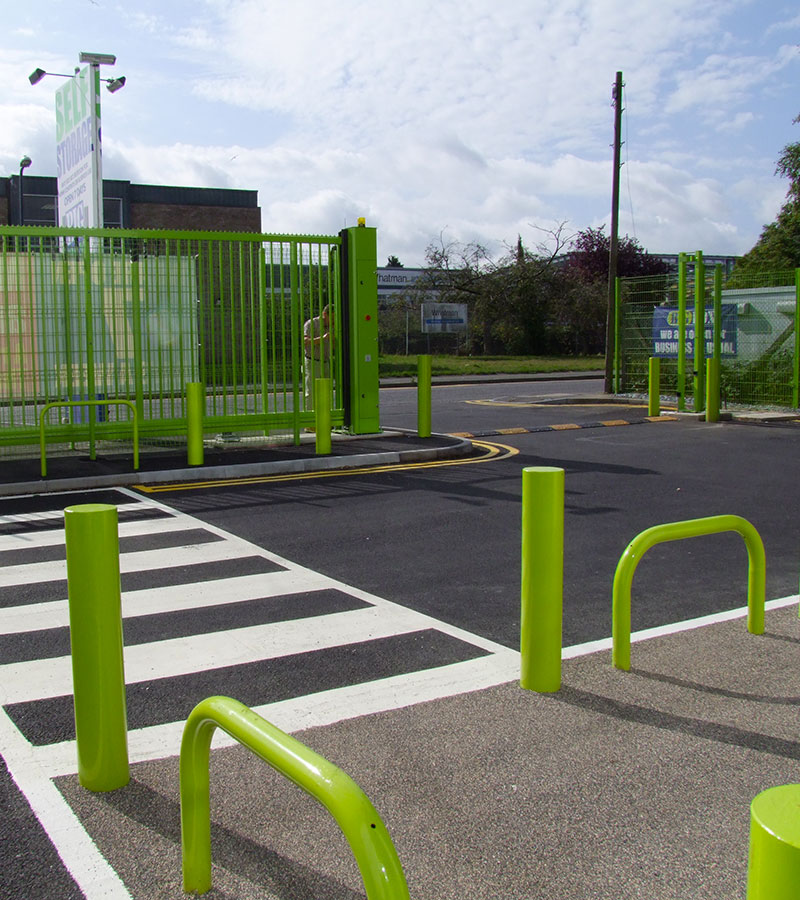 Are you a Kent-based business in need of fencing installation?
Our Fencing Services for Businesses in Kent
Whatever sized-business you own, we will always provide a full installation service consisting of professional advice, site surveys, risk assessments and final installation of fencing, gates and security for your business.
Prior to providing any form of quote we will visit your business premises and perform a site survey which will then give us a much better idea of the size of the project and also allows us to discuss which options you would like incorporated within your fencing, gate or security installation. During this stage we are more than happy to offer professional advice on which type of fencing or gates are the best choice and can also keep within a specified budget.
Risk Assessment and Method Statement
Once we have completed our initial site survey and project proposal, we will then re-visit your business premises and begin to inspect the area in regards to checking for any unforeseen underground services and assess any possible risks. Once we have carried out our assessment will then produce a detailed and bespoke set of RAMS (Risk Assessment and Method Statement) to ensure your installation is possible and can be fulfilled safely.
As long as you are happy with our quote and assessment then we will begin work at a time and date that suits you. Fencing installation times greatly differ on the size of your premises and requirements, however our team will always ensure an efficient service which keeps you updated throughout. Once complete we will then check with you or a representative that all project requirements have been met and make any amendments if required.
Fencing Installation Accreditations

We proved a professional fencing installation service for businesses in Kent and therefore our team are both fully-qualified and certified to prove our efficiency when undertaking any installation work. Below is a breakdown of our most suitable credentials in regards to fencing installation for businesses in Kent.
If You Need a Quote or More Info then Please Get in Touch
If you are in need of fencing installation for a business in Kent then please feel free to get in touch using any of the following methods and we'll be glad to help.
Address:
Four Seasons Fencing
Ashford Road,
Bethersden,
Kent,
TN26 3AT
Email:
Phone:
OUR RANGE OF FENCING & GATES
Whatever type of fencing or gate your business needs we supply and install a wide range of options.
Our extensive range of Weldmesh Fencing systems.

Our range of Steel Palisade Fencing systems

Chainlink, Steel Palisade and Bespoke Systems for the Railway Industry

Our Range of Acoustic and Reptile Fencing

Our range of Site Hoarding, Heras Fencing and Site Gates

Our range of Keyclamp, Railings and Bowtop

Our range of all types of timber fencing

Our Range of Gates and Access Solutions

Our range of Crash Barriers & Bollards

Our range of security fence toppings
Need fencing installation for a business in Kent?