Weldmesh Fencing Systems
At Four Seasons Fencing we supply a high quality range of metal weldmesh fencing products straight from our workshop in Ashford, Kent. We can provide weldmesh fencing for any commercial of domestic project (whether it be big or small!) and have a professional full installation service which can be opted for if required.
Please feel free to browse through our versatile weldmesh fencing products or alternatively visit us at our workshop in Ashford, Kent where our friendly team of fencing specialists are at hand to help you with any questions regarding your weldmesh fencing requirements.
Our P100 is a cost effective fencing system highly recommended for public buildings, factories, workshops and schools.

A rigid panel system designed with safety foremost in mind and specifically for school and nursery environments or public areas.

An attractive and high performing security fence due to its unique appearance and innovative design.

Our Twinwire Flat Security Mesh Fence P656 is a flat mesh panel system that is stronger than our P100 / 200 range and suitable for a range of different applications.

Our 868 Twinwire Flat Security Weldmesh Fence is of the same design as our 656 system but is a step-up in both strength and security.

Our Spectator Rail is a perfect side boundary for sports arenas such as field hockey, and comprises a tubular handrail system with twinwire mesh panel infill.

Our Sports Rebound Mesh is recommended to protect all types of sports and playground areas helping the ball to rebound back into the play area.

Our P358 is highly recommended for schools, industrial sites, warehouses, vulnerable industries, high risk areas and prisons.
Where can our Weldmesh Fencing be used?
Weldmesh fencing is a form of cladding used for a number of fencing applications. The fencing is designed using vertical and horizontal wires which are electrically welded together to form apertures. This format provides clear visibility and is suitable for applications such as:
Playgrounds
Sports & Recreational Areas, MUGA Pitches
School & Nursery Perimeters
Car Parks
Business Parks
Railway Infrastructure
Hi-Security Areas
Ministry of Defence (MOD) sites
Utility Compounds & Electric Sub-Stations
Many more locations!
Welded wire weldmesh fencing is an extremely popular choice for recreational areas, in particular. Our sports rebound weld mesh fences are specifically designed to create a strong ball rebound, allowing the game to continue when the ball hits the fence. This is ideal for basketball and netball courts, football cages, tennis courts, hockey arenas and general playground areas.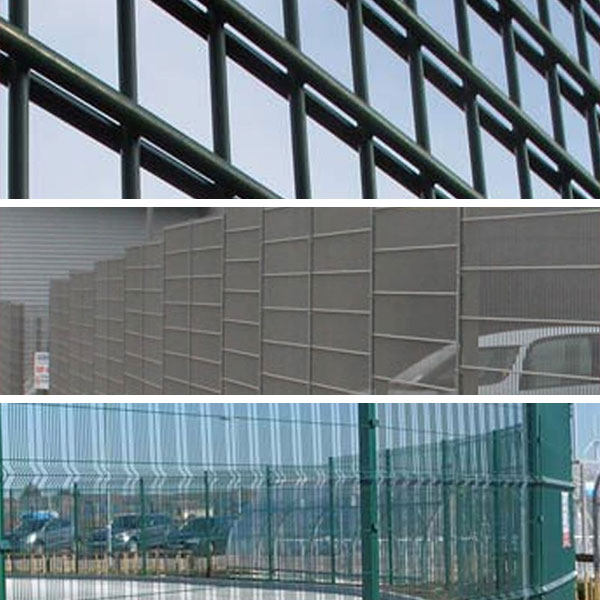 What are the Benefits of using Wire Weldmesh Fences?
There are several benefits of installing wire mesh fences, both in terms of security and practicality. To highlight a few:
Strength
Our welded mesh panels are built up of strong metal properties, ensuring for maximum resilience against external objects, weather and people.
Weather Resistant
The design of the wire mesh fence makes it lightweight – allowing wind to pass through. This reduces the chance of damage due to strong winds or stormy conditions.
Visibility
The gaps created through the security mesh fence design enables for good visibility and especially CCTV, which is ideal for those who wish to obtain maximum security and survey the borders of their property for any potential trespassers.
Spectator Friendly
Spectators of sports games, for example, can watch and support from the side without interfering with the game.
Low Maintenance
Our products has been manufactured to be easy to maintain, endure regular use and most importantly, last a long time – so you won't have to replace your fence every year!
Looking for a quote on Welded Mesh Fencing?
If you have any questions about any of our metal weldmesh fencing products then please do not hesitate in contacting us on 01233 820240, via email, or by submitting an online enquiry form. Our expert fencing team, based in Kent, will be happy to assist and advise on deciding the best solution for you.
OUR RANGE OF FENCING & GATES
Other fencing styles that we currently stock and supply to commercial projects in the Kent are include Steel Palisade, Railway Fencing, Environmental Fencing, Hoardings & Site Fencing, Railings & Bowtop, Timber & Stock Fencing, Gates & Access Control, Crash Barriers, Bollards and more.
Our extensive range of Weldmesh Fencing systems.

Our range of Steel Palisade Fencing systems

Chainlink, Steel Palisade and Bespoke Systems for the Railway Industry

Our Range of Acoustic and Reptile Fencing

Our range of Site Hoarding, Heras Fencing and Site Gates

Our range of Keyclamp, Railings and Bowtop

Our range of all types of timber fencing

Our Range of Gates and Access Solutions

Our range of Crash Barriers & Bollards

Our range of security fence toppings