Construction Site Hoarding Installation in Kent
At Four Seasons Fencing we specialise in construction site hoarding installation in Kent for a range of development projects. With decades of experience we are able to install a range of construction site hoarding including:
Our expertise allow us to ensure the upmost safety and security for any construction site through the installation of professional quality site hoarding with our fully-certified and experienced team. All of our staff are CSCS qualified (Construction Skills Certification Scheme) and DBS checked (Disclosure & Barring Service) so we are able to install site hoarding in Kent to any customer whether you represent a Housing Development, School, Local Business, Railway or Council.
Once the construction is complete and you no longer require our site hoarding, we then dismantle and remove the hoarding from your site. We can also work alongside contractors to then reinstall the hoarding at another location if required.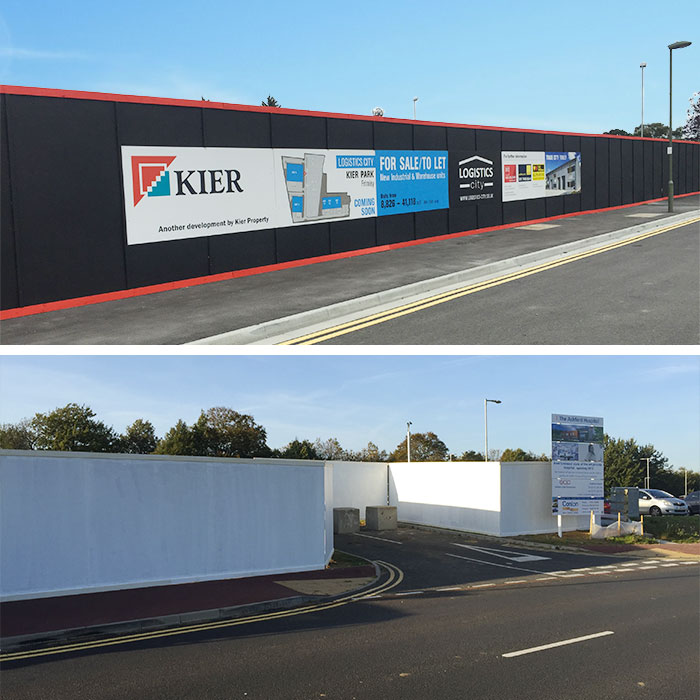 In need of a construction site hoarding contractor in Kent?
Construction Site Hoarding Options

Construction Site Hoarding Process
Every construction site is site entirely unique and therefore the method in which we approach each hoarding installation is entirely different, however there are 3 key stages to each site hoarding installation that we undertake.
First and foremost we will assess your construction site grounds and liaise with the site manager to ensure we know exactly where your hoarding installation is required. We will then discuss what type of site hoarding you require and then design a coherent plan making sure we can fulfil the requirements whilst also abiding by health and safety legislation.
2. Site Hoarding Installation
Once the site hoarding plan has been approved we will then install your chosen hoarding around the proximity of the construction site whether it's timber, mesh or steel. If you have chosen our timber hoarding then we will also install either single or double leaf gates around the fencing to allow secure access solutions for all the construction site team.
3. Site Hoarding Dismantle
Once your construction is complete and you no longer require the site hoarding we will then return to the site, dismantle and remove the site hoarding for you. On certain occasions (such as housing developments with multiple 'phases') it's likely that the site will be moved to a second, nearby location which now requires site hoarding. In these instances (if possible) we simply dismantle the site hoarding and re-install at the next site location.
Site Hoarding Accreditations

Our team of site hoarding installers in Kent are all accredited and checked to ensure they are qualified and professional installers whilst also being safe to work in any environment with 'vulnerable groups' such as children at schools.
Who We've Installed Site Hoarding For
As a professional site hoarding installer in Kent we have installed numerous of site hoarding solutions for an array of clients for many years. Below are just a few of our most recent clients who we've successfully installed site hoarding for.
As a specialist site hoarding contractor in Kent we offer a range of fencing installation services for clients including schools, councils, businesses, railways and much more. Here are some of our most recent fencing installation projects.
NEED A QUOTE OR MORE INFORMATION?
If you are in need of site hoarding installation in Kent or would like to know further information about our installation service then please use any of the following methods to get in touch and we'll be glad to help.
Address:
Four Seasons Fencing
Ashford Road,
Bethersden,
Kent,
TN26 3AT
Email:
Phone: