Buyer's Garden Gates Guide
April 19, 2017
Here at Four Seasons Fencing, we offer such a fantastic range of garden gates you are truly spoilt for choice!
If you're just starting your search for a Garden Gate then take a look at our guide to help you find the right Gate for you.
Our Top Tips
If you are in need of security for your children or pets and require some privacy then a taller more solid gate would be more beneficial to your garden.  However, if you are looking for a more decorative border style then a smaller gate is ideal for you.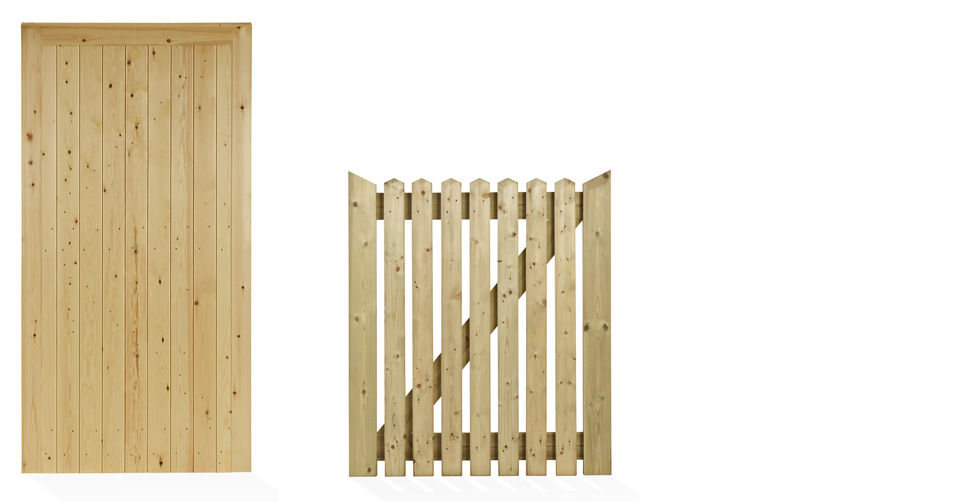 Images above feature: Town Gate (left) , Cottage Gate (right)
Before you start choosing, make sure you measure the gap size for your desired gate and remember to leave sufficient space for gate posts and fittings.  You should also think about which side does the gate need to hang from.  This won't affect most gates that are identical each side.  However, if you choose a gate which is ledged and braced on the back then you need to remember how you want it to look from the outside of your garden or property – usually you would have it facing outwards.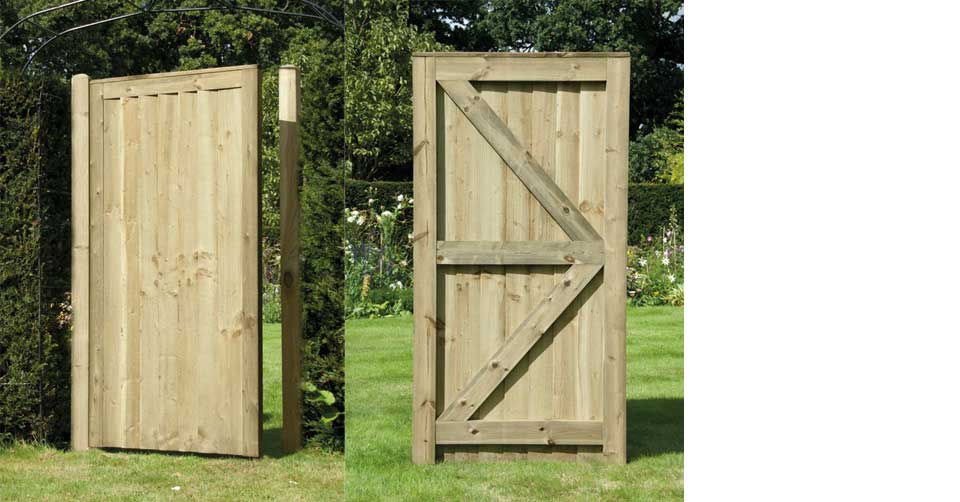 Images above feature a ledged and braced featheredge gate being hung on the left so it is facing outwards from the garden.
Highest Quality
All our Garden Gates are supplied as pressure treated.  Most of our gates have a light green preservative to enhance the decorative style and protect the timber.   It is very important to buy the best quality timber for your gate to ensure it has been treated to extend the lifespan and protect the wood.  We make it our priority that our product range is sourced from well managed and sustainable resources and where ever possible under certified forestry control, FSC.

The FSC and PEFC logo's identify products which contain wood from well managed forests certified in accordance with the rules of the Forest Stewardship Council and the Programme for the Endorsement of Forest Certification schemes.
Choosing a Gate to suit your Garden
Many of our Garden Gates are available with a timber panel to match.  This is ideal for those who are starting a garden from scratch and require fencing aside to your gate which will compliment your garden.  Some of our garden gates that have a matching panel, are available in the same height as the panel so it can create a perfectly formed border with the gate subtly hidden in with the fencing.  This creates a beautifully decorative edge to any garden, patio or decking area.

Image above features the Elite Cross Top Gate and matching panel.

Image above features the Round Top Picket Gate and matching panel.

Image above features the Arched Horizontal Gate and matching panel.
Choosing the right Gate Post
We have a wide range of sizes for our Softwood Gate Posts from; 125mm to 200mm wide by 2.1m to 3.0m high.
Choosing your Gate Fixings
We offer many different styles of Garden Gates so it is important to take notice of what fixings are required to each gate.  For example, some of our taller gates have an arched top bar which will require a curved hinge bracket, whereas a flat top gate will need a medium tee hinge bracket.

When it comes to choosing a gate handle, the Auto Gate Latch is very popular for smaller gates where a basic open and close latch is required.  Alternatively, the Ring Latch is a great choice if you are looking for a more decorative gate latch and it is ideal for taller gates.

Adding bolts to a gate it provides security for children, pets and for pedestrians you wish not to access your garden. All our fixings are available to buy individually, alternatively we offer a Side Gate Kit for taller gates and a Pedestrian Gate Kit for smaller gates which provides all the gate fixings you need all in one kit.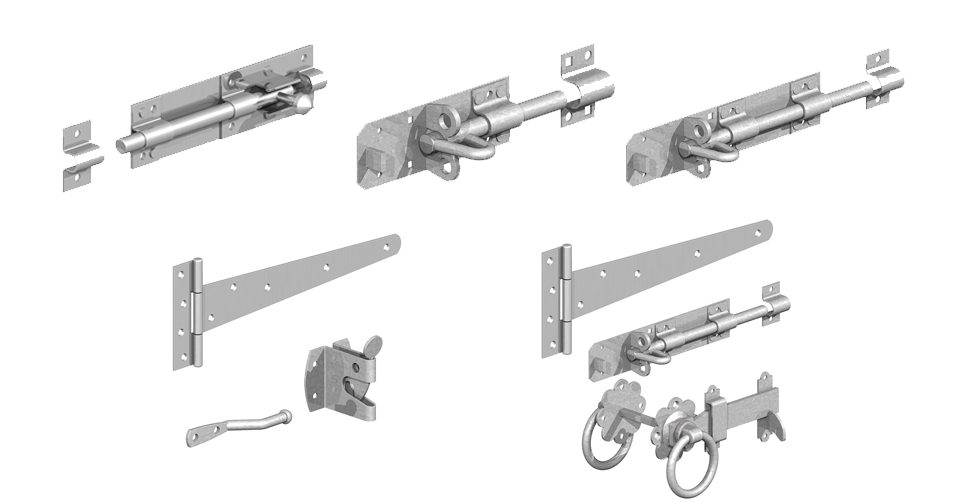 Shop our Fittings and Fixings here..
You can view all of our Garden Gates here or view them all in our product brochure – Request our brochure..
We hope this guide has given you some inspiration for choosing the best gate for you.  For any more information or advice on our Gates, please do not hesitate to contact a member of the team on 01233 820240 or email us at sales@fourseasonsfencing.co.uk